Navigating the Silver Abyss: Valorant's Rank Distribution Unveiled
The world of Valorant is a battleground where players strive to climb the ranks and prove their skills. Yet, for many, the Silver rank seems to be an insurmountable hurdle. In this article, we will delve into the intricacies of Valorant's rank distribution, shedding light on why Silver is the most densely populated tier and why it's often referred to as "ELO Hell" within the community.
Insights from Valorant's Rank Dynamics
Valorant's rank distribution statistics, as provided by Tracker.gg, paint a revealing picture. Silver dominates the landscape, with the majority of players calling it home. However, as one aims higher on the rank ladder, the competition thins. Diamond ranks are a privilege only a few enjoy, while Radiant remains a distant dream, hosting less than 1% of players.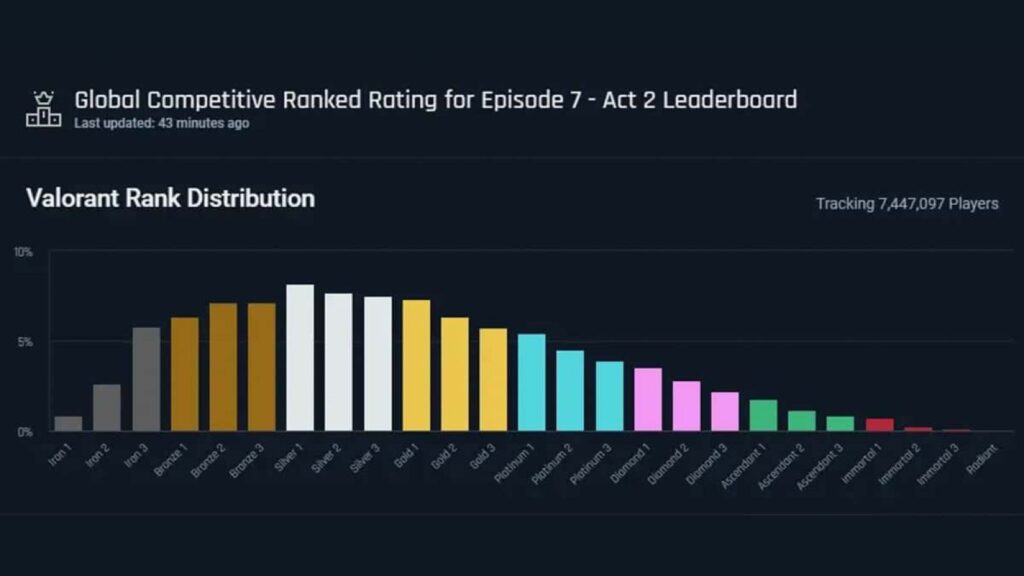 But it's not just the top tiers that tell a story. Iron 1, where players take their first steps in the game, also has limited occupancy, with only 0.8% of players holding this rank. This intriguing data suggests that many Valorant enthusiasts possess skills that go beyond the basic Iron 1 level.
The Challenge of Silver: ELO Hell
With Silver being the most densely populated rank, it's no wonder that it's often labeled as "ELO Hell" within the Valorant community. The sheer volume of players in Silver leads to a diverse mix of playstyles and strategies. Navigating through this rank becomes not only a test of skill but also a challenge of adaptability.
In Silver, players encounter a wide array of opponents, each with their unique approach to the game. This mix of gameplay styles, coupled with the high player density, makes progression challenging. Despite Silver's relatively modest skill ceiling, only the most persistent and adaptable players manage to rise above the chaos.
Conclusion
Valorant's rank distribution is a fascinating study of player dynamics. It reveals the Silver rank as a magnet for the majority of players, presenting a unique challenge. Breaking free from the clutches of "ELO Hell" requires determination and continuous improvement.
To succeed in Valorant's competitive landscape, one must not only refine their skills but also adapt to the ever-changing strategies encountered in Silver. With persistence and the willingness to learn and grow, navigating through the Silver rank can become a rewarding journey towards higher ranks and greater recognition in the Valorant community.
Also Read: Free Fire World Series 2023: Exciting Teaser, Prizes, Format, Schedule, Teams, and More