Enigma Gaming unveils their pristine Valorant roster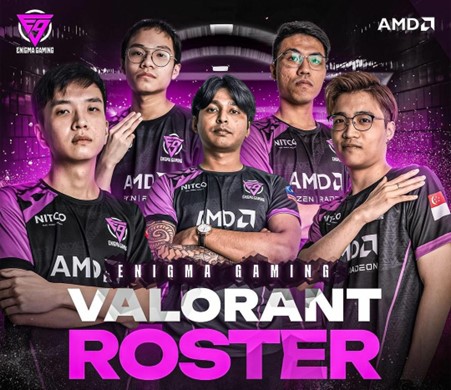 Enigma Gaming unveils their pristine Valorant roster
Enigma Gaming commenced its Valorant competitive journey in 2020 and since then they dominated and won Sky Esports Pro Invitational S1 and TEC Challenger Series 8.
Enigma Gaming recently did business with Orangutan by giving them their entire Valorant roster which was led by Sabyasachi Bose aka Antidote.
However, the organisation has successfully managed to sign five new players based in Singapore and Malaysia.
The new lineup of Enigma Gaming welcomes Tidus Goh aka STYRON, Ingram Tan aka FREY, Mathanraj Munisparan aka theDoctorr, Yeoh Chun Ting aka Divine and Xan. The team made their debut in the Valorant Challengers League Malaysia/Singapore Split 1 tournament and are yet to secure their first win together as a team.
Enigma Gaming looks positive for its new Valorant Lineup as previously they missed their golden chance in VCT Partnership and are determined to keep their head high to make it to the top as the VCT Ascension nears.