Esports Revenue Soars: 5 Key Findings from Niko Partners Report on Asia and MENA Dominance
The esports industry has been growing at an incredible rate over the past few years, with Asia and the Middle East and North Africa (MENA) region leading the way. A new report from Niko Partners has shed light on just how dominant these regions are when it comes to esports revenue.
China Leads the Way, but Esports Fandom Drops
According to the report, Asia and MENA accounted for over 56% of global esports revenue in 2022, with China remaining the largest market in the region by generating revenues of $445m. However, despite generating the most revenue, China experienced a drop in esports audiences, down 7.8% from the previous year.
The report also highlights the most popular esports games in the region, with VALORANT, Dota 2, and League of Legends topping the charts on PC and console. In the mobile ecosystem, Asia and MENA are largely dominated by PUBG Mobile (Peacekeeper Elite), League of Legends: Wild Rift, and Mobile Legends: Bang Bang.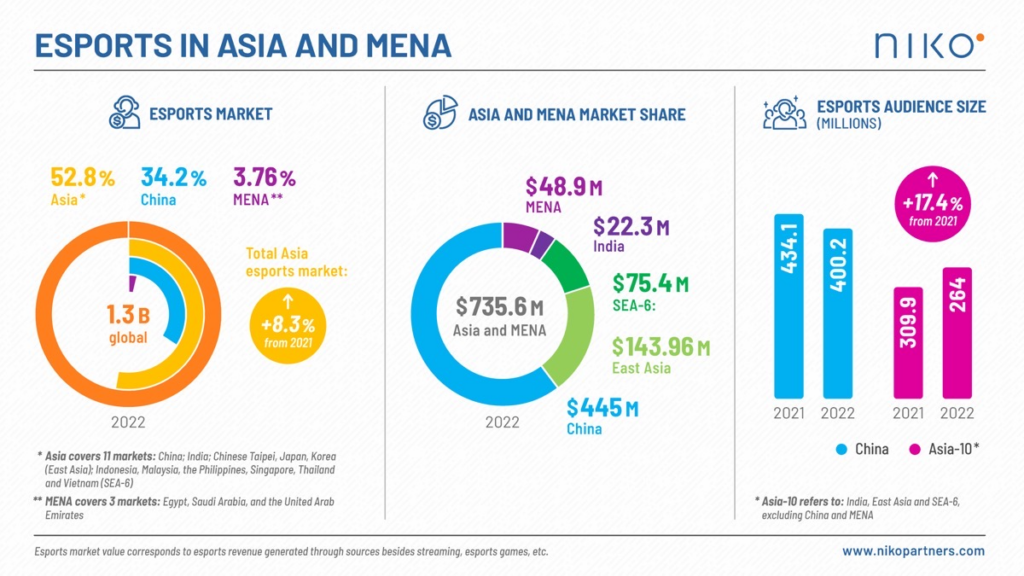 Rise in High-Value Investments and Mobile Gaming Popularity in MENA
But it's not just about revenue and popularity. The report also notes the rise in high-value investments and high-profile events in the MENA region, with Saudi Arabia hosting the first-ever PUBG Mobile Global Championship (PMGC) in the region, with a prize pool of $6m. This, combined with the growing popularity of mobile gaming, is expected to lead to a rise in esports audiences in the region.
According to Alexander Champlin, who is the Director of Esports Research at Niko Partners, the global esports market is still primarily growing in Asia in 2023. However, the Middle East and North Africa (MENA) region is becoming increasingly influential on a global scale due to significant investments and the organization of high-profile events.
Esports is no longer just a niche industry – it's a global phenomenon that's changing the way we think about sports and entertainment. And as the industry continues to grow and evolve, it's clear that Asia and MENA will remain at the forefront of this exciting new world.
Table of Contents